Alternative to Soil Cover Materials
Long Term Cover
"CC180" World's Longest Lasting Cover Material
When your landfill or waste areas wont't be used for 8 to 24 months or longer then it's time for the CC180 cover material.
CC180 arrives at your site as a Two-Component System, consisting of 3 chemical 'A' bags and 1 recycled paper and wood fibre matrix blend 'B' bag. Is a technologically advanced 'Air Entrained' Sprayable Slurry.When applied it creates a consistent, impervious barrier up to 7.6 cm in thickness When the chemical agents of CC180 are mixed in our machines, its special components are activated - with a slight exothermic reaction taking place, driving off moisture until setting and curing on the landfill surface.
The advantages of using this type of technology is that CC180 can be applied in the middle of rain storms, without losing its water repelling properties.
However, due the special properties of CC180, even though the cover cures and hardens within 90 minutes of mixing, it will rehydrate when exposed to rain. This allows it to resist cracking and drying out, due to instances when the underlying surface changes shape.
Ideally suited for suppressing odors from contaminated sediments, this high performance cover excels at minimizing ingress of oxygen into methane collecting cells, as well as restricting water access with its impermeability Tested by an independent laboratory rating of 10-6 .
This means the CC180 can be a far more cost effective replacement as a temporary cover on landfills or remediation piles than plastics or geotextiles.
Plus, as with all our other covers, CC180 is 100% green. Its material neutral construction significantly encourages vegetation growth for controlling erosion.
-1 unit = 3 chemical bag & 1 mulch bag
-1 unit mixes with 189 litres of water
-1 unit covers 102 - 79 m2
-Duration: 12 to 24 months & even 3 years months with SS 40
Designed to Use as :
-Steep slope stabilization & erosion control
-Cover Material during extreme weather events, flooding & torrential downpours
-Alternate to geotextile covers
-Horizontal cover layer; Minimizes the penetration of oxygen
-Odor suppression even in sludge ponds
-Fugitive dust control on hazardous sites
-Cover for contaminated sediment & hazardous waste excavation
-Protects seeds from brought and heavy rain events and support seed growth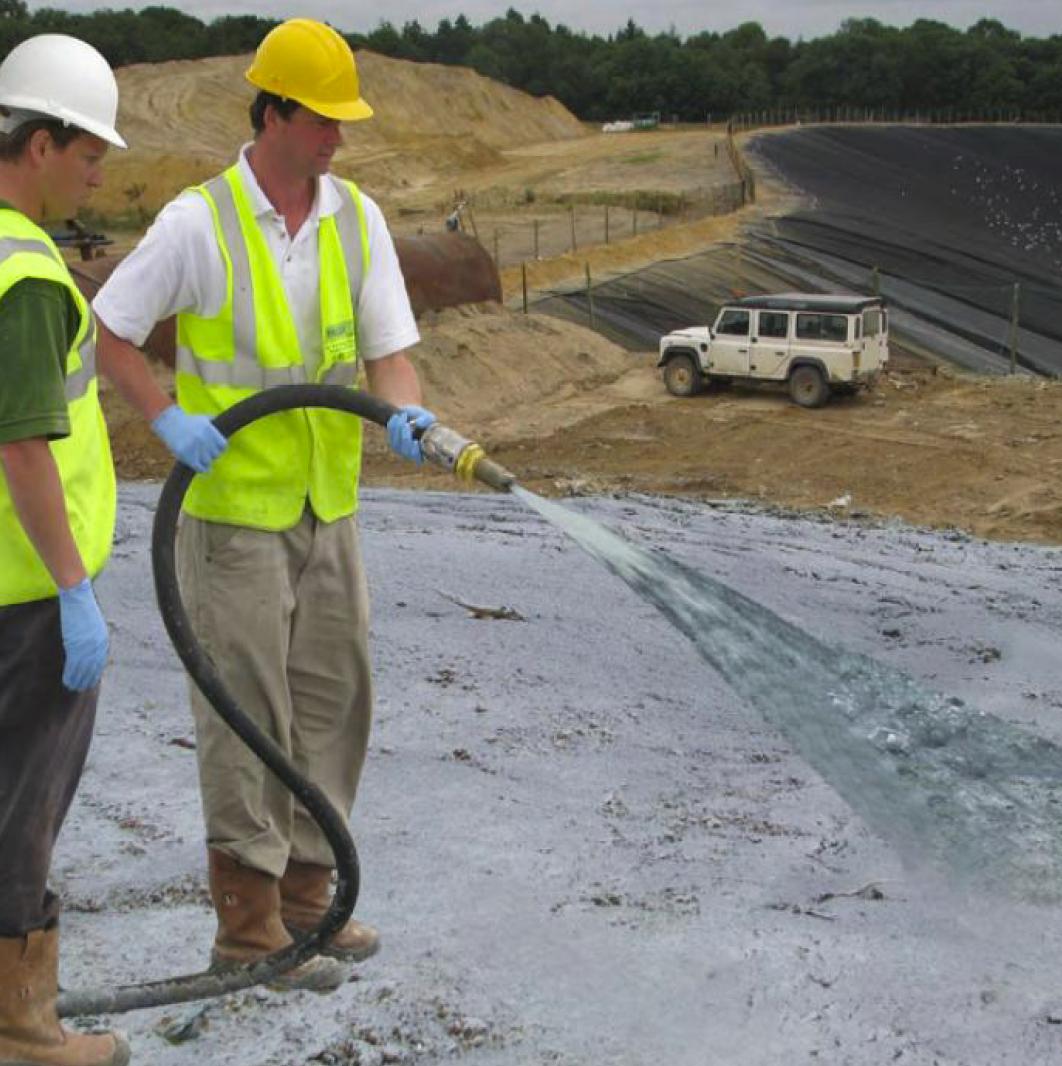 CC 180 Remediation (372.08 kB)